OZARK JR. HIGH SCHOOL - OZARK, MO
The Ozark Jr. High edition reflects the history of the town and its dedication to literature. A large, region-specific timeline stretches across the west wall. The wayfinding graphics on each library pod mimic book spines, but are translucent enough to allow an abundance of light through.
THREE TRAILS PRESCHOOL - RAYTOWN, MO
The task at Three Trails was to convert a dark, unoccupied building, into a fun, colorful environment for preschoolers. A very large scope with nearly 2,000 square feet to cover! This was accomplished by creating custom, wall-specific fairytale and nature scenes to not only stimulate young learners, but also create comforting, consistent focal points for object identification.
SUMMIT TRAIL MIDDLE SCHOOL - OLATHE, KS
Relying on an already established brand, this new middle school project required devising a balance of color with grey tones, sharp and fluid forms, and (depending on floor and use) high and low energy levels.
ELLEN OCHOA ELEMENTARY SCHOOL - TULSA, OK
The graphics in this Tulsa, OK elementary school are very unique. They are highly customized art installations. Security window film, a large world map with pin-point lighting capabilities and a one-of-a-kind, layered aluminum tile system that creates ocean-like movements on the wall.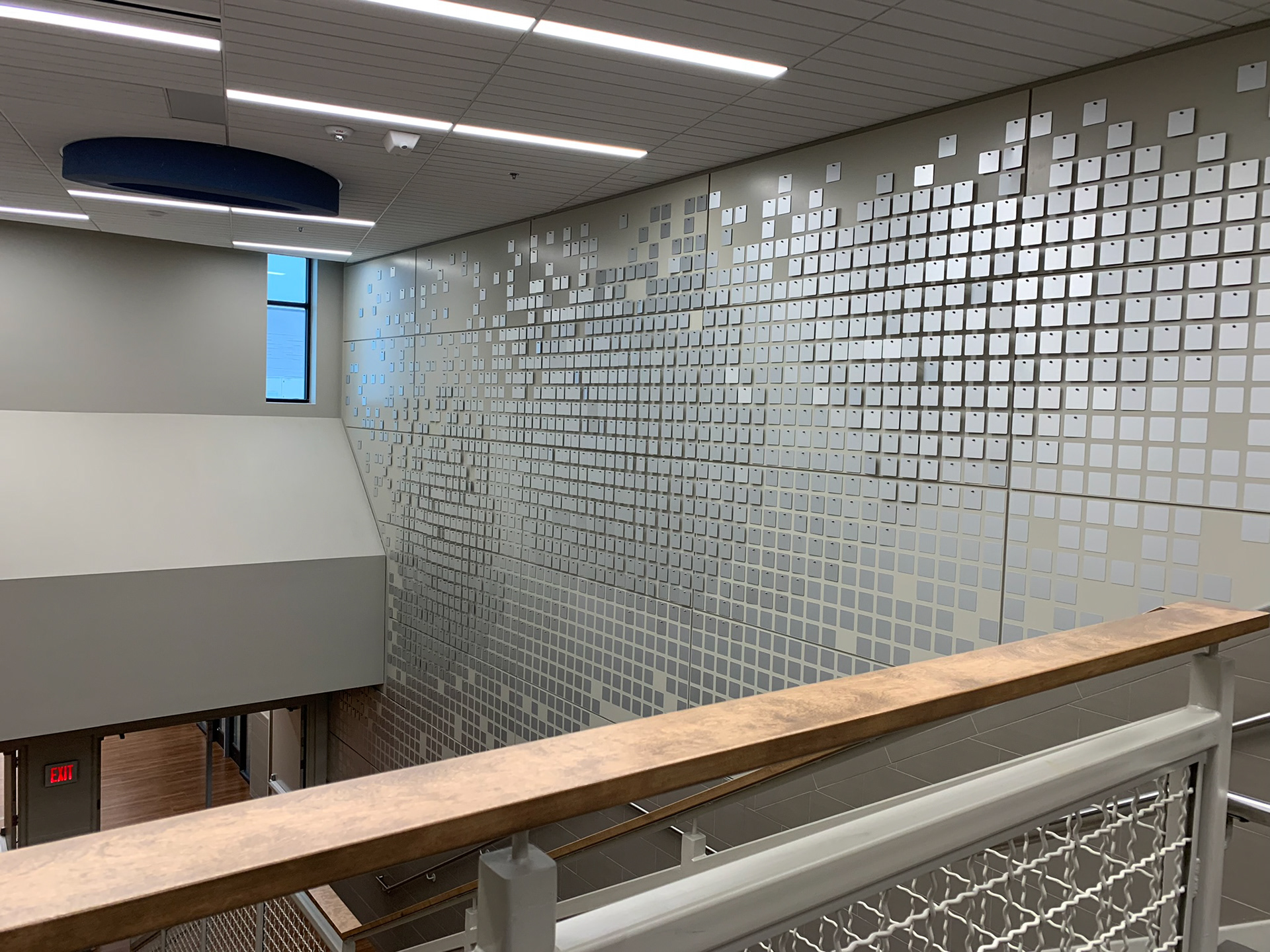 BISHOP MIEGE HIGH SCHOOL - KANSAS CITY, MO



Bishop Miege High School wanted removable / adjustable / modular exterior surface signs. The signs are designed to be removed and repositioned depending on the entrances final configuration. Two corten, wayfinding monument signs were also designed to reflect the shape and patina of the chapel structure by the front entrance.
Cassell Park Elementary School - Independence, MO
Cassel Park was a brand new elementary school that requiring a whole new branding suite as well as environmental graphics. The finished products (wall, glass and floor emblem graphics) - instilled in the students and faculty, senses of pride, safety and a sense of belonging.